Chelsea v Real Madrid: Women's Champions League – live | Women's Champions League
November 23, 2022
Key events
55 min: Olga gets a touch in the box but Bright clears, Real have another attacking opportunity with Feller's shot straight at Berger. Chelsea are slowly moving up the field here, they will need to strike soon.
53 min: As soon as I say one club has possession the other take it back! There is risky defending from Berger who punches a Feller cross away but not too far away. The resulting shot goes out for a corner, Berger punches again and Real come forward once more! Bright has to head away another chance but the visitors are building from their own half again.
51 min: Kerr pressures Misa and it works as the keeper is forced to boot it away and concedes a throw in. It comes to Buchanan who is building from deep but Kaneryd runs it out of play. Chelsea quickly win it back
49 min: Real build for a while but Robles' pass to Feller goes out of play. Kerr has some good footwork and sets up Chelsea's latest attack. Reiten wins another corner and surely this time they will take some time on it. Cuthbert takes it and it is bundled out of the box, the hosts have had more opportunity but no goal … yet.
47 min: Reiten has not been replaced at half-time and no changes have been made from either side. Chelsea have an early corner and they take it quickly, Cuthbert thunders it in but again Misa collects.
Back underway! Chelsea 0-0 Real Madrid
So will we see a goal in this second half? Or is this first meeting between the clubs destined for a 0-0 deadlock? We will soon find out …
The other match happening right now between Roma and Wolfsburg has seen some goals with the half-time score 1-1. Roma opened the scoring through Giacinti but Pajor found an equaliser.
Have you been keeping up to date with our weekly women's football newsletter? This week's is all about the Mexican league and how club Tigres UANL are growing their fan base. Read it below and subscribe to get the newsletter in your inbox:
Kerr was able to walk off the pitch on her own accord which is good to see, even taking a light jog into the changing room so she should be okay to continue in this clash.
Half-time: Chelsea 0-0 Real Madrid
There is the whistle! But Kerr is remaining on the floor after a foul, hopefully the striker is okay. She is not happy here. No goals yet and there could be more injury worry for Chelsea as Kerr and Reiten have taken hits.
45 + 5 min: It comes in but Bright clears it, the half-time whistle can't be too far away now.
45 + 4 min: It looks like an ankle issue for Reiten, she is back on her feet but she is not happy on the side of the pitch. She is back on the pitch, I wouldn't be surprised if she comes off at half-time though. Real win a corner through Olga, can they score?
45 + 2 min: Feller has the ball on the edge of the box but Eriksson does well to block the cross. Reiten is now down, she has hurt herself in that latest defensive effort.
45 min: There will be three minutes added.
45 min: Chelsea have a throw in in a good position and it could be there final chance to break the deadlock, Real intercept it though and surely this half's chances are gone.
43 min: The kick comes in and it seems to have missed everyone but Bright looks to have had a scuffed shot which is off target. Kaneryd in a great position slips in the box and Chelsea were so close to finding an opener!
41 min: Charles' throw in meets Kerr's head but the touch has too much on it and it's out for a goal kick. Chelsea win a corner in their latest attack. Sarina Wiegman is in the crowd tonight too.
39 min: Cuthbert is back on her feet and it looks as though she is okay to continue.
37 min: The word to describe this half of football is frantic. The game has another breather as Cuthbert is down once more, this time it looks like she has clashed heads with a Real player. Her head is in her heads on the ground, hopefully she is okay.
36 min: Real are opening up the Chelsea defence and it comes from Weir. Real players were screaming for a free kick on the edge of the box after Bright wins the ball back but the referee plays on. Cuthbert looks injured here after Zornoza fouls her but the Scotland international is okay to continue.
34 min: Weir has good football to feed Robles but she slips before she can feed Weir in a good position. The visitors are building here, an even contest now after Chelsea dominance. Reiten looks to cross to Kerr but the winger is offside and Real are allowed possession once more. But hang on! Kerr pounces on a loose ball but instead of taking a shot she squares it into the box but no one is there!
32 min: Eriksson gives away the ball with a foul on Weir, the little decisions have started to switch in Real's favour – all they need is a decent bit of attack to kill this Chelsea momentum.
30 min: K. Robles puts in a great cross but Berger doesn't take her eye off of it and she claims it. Chelsea building once more but Charles loses it, the Chelsea star hasn't had the best evening so far.
28 min: Bright puts in a huge pass to find Kerr in the box but Real's defence is pressuring Chelsea enough for the ball to come all the way back to Bright. Another frantic defence sees the visitors deny Reiten a cross in.
26 min: A slight slow in the game with each side losing a throw in, a probably welcomed breather for the players in this frantic match! Charles put in another cross and it has too much on it to get in the box but she does find Cuthbert, they run it back to halfway but they look the more likely to score. The ball is out for a goal kick though, no score yet.
24 min: Chelsea are forced back to halfway and Eriksson's pass goes out of play, good defence from Real so far. It's not always perfect but so far no goal conceded. Cuthbert has an ambitious shot and it's wide.
22 min: Buchanan defends well but loosely with a looping clearance back in Real possession. Zarnoza crosses in and Esther gets a shot away but Berger collects. Chelsea counter and Reiten crosses in, it comes to Kerr and it pinballs around. Real defend so far and the crosses keep coming but eventually there is breathing room for the visitors. Chelsea still with the ball.
20 min: The kick comes in from Cuthbert but Misa reads it perfectly and collects. A good performance from the keeper so far. Real have a good period of possession but Chelsea intercept, a bit too much power and Misa rescues the side once more.
18 min: Groans from the crowd as Chelsea pounce on a loose pass but the referee pulls it back for a foul, if Chelsea were allowed to play that we could have had an opener. Real unleash their best attack yet and Weir has a shot but Buchanan deflects. It has gone end-to-end and Chelsea now have a corner.
16 min: The kick is taken quickly and they are having to play from halfway but Bright gives away possession with a foul. Another foul from Bright sees the visitors win more territory but Real give it away in the midfield. An opportunity missed.
14 min: Real are playing out of the back but it is quite loose and they are lucky not to lose out to Chelsea attackers. The ball came into the box for Kerr but Ivana does incredibly well to head away. Charles is fouled by Zornoza and Chelsea are on the attack once again.
12 min: Kaneryd is a threat and Real know it, she receives the ball from a throw in and she is surrounded by four defenders in the box. They wrestle her off it but Chelsea win back possession in their own half. Kaneryd looks to win a corner but it goes out for a goal kick.
10 min: Wow that was close! Charles pops a good cross in, looking for Kerr, but she overcooks it and we have a goal kick. The whistle goes with Esther on the ground, she is okay to carry on.
8 min: Bright puts in a great ball to Reiten who unleashes Kirby but she runs it out of play. She does win a corner though, Cuthbert takes the kick and Misa punches away. It bundles around the box and the goalkeeper has to come to the rescue, Chelsea have had the brighter start here.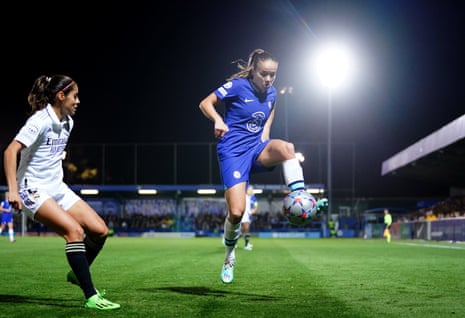 6 min: Buchanan earns Chelsea a free kick as Esther fouls. Cuthbert takes the set piece and it's short, Chelsea will be working from halfway here. And that is a heavy challenge from Feller! Eriksson going clattering to the floor, Reiten to take this free kick. She gets to the far post and Misa collects.
4 min: Chelsea are now on the charge and some slick work from Kerr gets the hosts in the box. She finds her familiar forward partner Kirby but her shot is saved by Misa. Chelsea have a corner but it is cleared by Real. Thrilling start!
2 min: The visitors have a good spell on the ball in the early stages. The ball was thundered upfield but Olga Carmona is offside.
Kick-off! Chelsea 0-0 Real Madrid
The action is underway at Kingsmeadow! Chelsea are on an unbeaten run but Real Madrid have only lost one match this season. A huge game for both clubs.
The players will be out on the pitch shortly and I cannot wait for this one to get started! What a game it will be.
We have two bumper days of the Women's Champions League and tomorrow includes a huge match for Barcelona as they return to Camp Nou. The team sold out the stadium twice last season and it will see England players Keira Walsh and Lucy Bronze play there for the first time. Read Suzy Wrack's interview with Walsh ahead of the Spanish team's match against Bayern Munich:
Two WCL games have already taken place today with PSG defeating Vllaznia 5-0 and St. Polten beating Slavia Praha 1-0 despite going down to 10 players. The other match in the tournament aside from Chelsea v Real Madrid to be played this evening is Roma v Wolfsburg, I'll do my best to keep you updated on that score too.
There will be a return to Kingsmeadow for Emma Hayes as she came back to the touch line in Chelsea's Women's Super League match against Tottenham at Stamford Bridge. Hayes has had time out to recover from an emergency hysterectomy.
If you have read any of my blogs before you know I love a bit of snack chat. We have previously discussed Skittles and Starbursts but today I have gone savoury. Yes I have reached for the crisps. I am a sucker for Walkers salt and vinegar, an underrated crisp in my opinion. Get in touch and tell me which crisp you think is underrated, you can reach me on twitter, @rendellx, or email.
Millie Bright may not have played Real Madrid before but she is fully aware of what her side will encounter on the pitch. "We have to be switched on defensively," she said. "It's going to be an interesting game and it's going to be feisty but it's certainly one we're ready for. We take it game by game. We want to keep showing our dominance, keep progressing as a team, but ultimately get the job done, get the win and keep proving ourselves in Europe."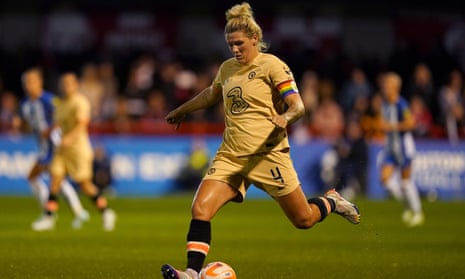 The match today will see the first meeting between Chelsea and Real Madrid. So while they will have knowledge of each other's tactics from footage, they haven't encountered each other on the pitch. An interesting match ahead …
Real Madrid star Caroline Weir is going to use her experience of Chelsea to help her side in the match. She said: "We're excited to be here and it'll be a big test. The team's feeling good and we're in good form. Chelsea are a good team, who I've played against several times. They have plenty of experience, their players are very physical and they're doing well in the league".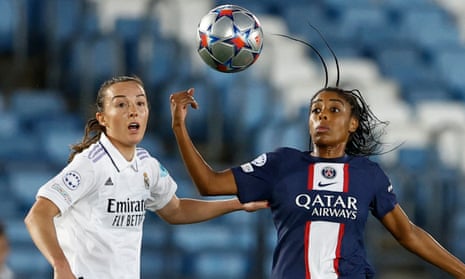 Chelsea manager Emma Hayes has spoken about Pernille Harder's injury, saying she is irreplaceable in her squad and it is a "huge blow" to have her out. Harder sustained the hamstring injury while on international duty with Denmark and Hayes spoke on her frustration. "I think it is outrageous that players are put in those positions," said Hayes. "Yes, there is an international calendar, and I know there are going to be changes so they [players] could perhaps be with international for longer periods and then with their club for longer periods. It's the travel and the in between that causes a lot of the problems. For someone like Pernille she always wants to do everything. It's not the fault of anybody, sometimes with these injuries they come for many different reasons. But I certainly feel players playing in World Cups and European Championships being given two weeks rest in between seasons is unacceptable for them. Forget about clubs and countries, we need to start putting the players first."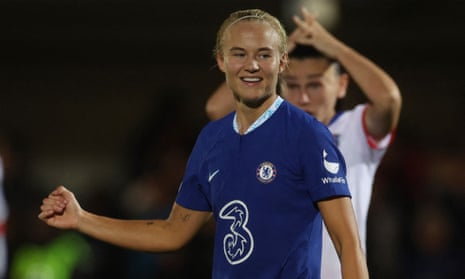 Here is that Real Madrid team news as promised! The club have made five changes from their 1-0 win over Sporting Huelva. Misa, M. Oroz, Esther, Feller and Freja Siri all come in and interestingly Del Castillo is on the bench.
Real Madrid starting XI: Misa, K Robles, Ivana, Olga, M. Oroz, Esther, Weir, Kathellen, Feller, Zornoza, Freja Siri.
Chelsea have made three changes from their 3-0 win against Tottenham. Fran Kirby, Johanna Rytting Kaneryd and Niamh Charles come into the starting 11. Pernille Harder and Maren Mjelde are both injured and so are not involved in today's match.
Chelsea starting XI: Berger, Bright, Ingle, Reiten, Kirby, Eriksson, Kaneryd, Kerr, Charles, Cuthbert, Buchanan.
I am on the hunt for the Real news, I'll update you when I have it.
Hello and welcome back to our Women's Champions League coverage. This evening we will be treated to a European clash between Chelsea and Real Madrid.
Chelsea top Group A after registering two wins, against Paris Saint-Germain and Vllaznia, while Real Madrid trail just behind them with a win against Vllaznia and a draw with PSG. The English club have been impressive in the tournament with their last outing seeing an 8-0 result over Vllaznia. Striker Sam Kerr scored four goals, becoming the first player in the Women's Champions League to score four in the group stage match.
The threat Chelsea will have to contain in the Real Madrid squad is Caroline Weir. Since signing for the Spanish club from Manchester City this summer she has gone from strength-to-strength. But can she down the Blues in their own back yard? We will find out from 8pm GMT.
The team news is out so stay tuned for all the updates.