Sheffield Utd v Nottingham Forest: Championship playoff semi-final, first leg – live!
May 14, 2022
51 min: Joe Pearson is back: "Zinkernagel is on loan from Watford. So, even if Forest get promoted, he probably ends up back in the Championship? Sucks to be him."
49 min: More Blades attacking as Steve Cook comes across to deny Chris Basham. Forest have defended well while also looking a bit nervous with it.
47 min: Blades start with a head of steam, as if they have had a good pinch of, er, snuff. Enda Stevens almost getting on the end of a Norwood ball. The problem is that Forest set off on another of those wildcat counters and John Egan has to hurry back to clear the danger.
46 min: John Denver and Annie's Song sends us back underway.
You fill up my senses,

Like a gallon of Magnet,

Like a packet of Woodbines,

Like a good pinch of snuff,

Like a night out in Sheffield,

Like a greasy chip butty,

Like Sheffield United,

Come fill me again

Na na na na na…Ooooohh!
Ok, a correction, though one I was prepared for, and thanks to Stephen Gibb and Andrew Bartlett for setting me straight. There WILL be VAR at the playoff final at Wembley. That will clear everything up, then…
From the BBC:
VAR will be introduced for the 2021-22 Championship play-off final at Wembley for the first time, the English Football League has confirmed.

Meanwhile, the league say "discussions remain ongoing" over the use of VAR in the League One and League Two finals.
Half-time: Sheffield United 0-1 Nottingham Forest
Jack Colback's goal the difference but it could have been many, many more. Forest had chance after chance and their goal only came when Ben Osborn slipped and Colback could not miss on Forest's second bite of the cherry. It's nervy, it's dirty, it's the playoffs.
45+2 min: Blades concentrating on getting to half-time by defending in numbers. Going in only a goal down would be not a bad outcome.
45 min: The Bramall Lane PA announcer is feeding back like the Jesus & Mary Chain's Taste The Floor but we are told it's three more minutes of this half.
44 min: Hello, it's going off. Jack Robinson of Blades and Djed Spence of Forest get in a tangle, both are booked for leaving their boots where they needn't be. Quite a few yellows stacking up now.
42 min: Forest have Blades pinned back but Gibbs-White tries to get away, and he's brought down by Zinckernagel, who takes the booking for a tactical foul.
40 min: Foderingham keeping Blades in this, making a fine save from Spence. What a game he's had. On the sidelines, Steve Cooper's eyes are even wider than normal – this may yet be a choke in the offing. Forest could be as many as four goals up.
39 min: Joe Pearson again: "Since the playoff final will be at Wembley, will they use VAR?"
Believe the answer is no but prepared to be corrected on that.
38 min: Johnson, released by Zinckernagel and Surridge, on another of those Forest breaks. Foderingham is beaten but so is the post. Forest piling up the chances.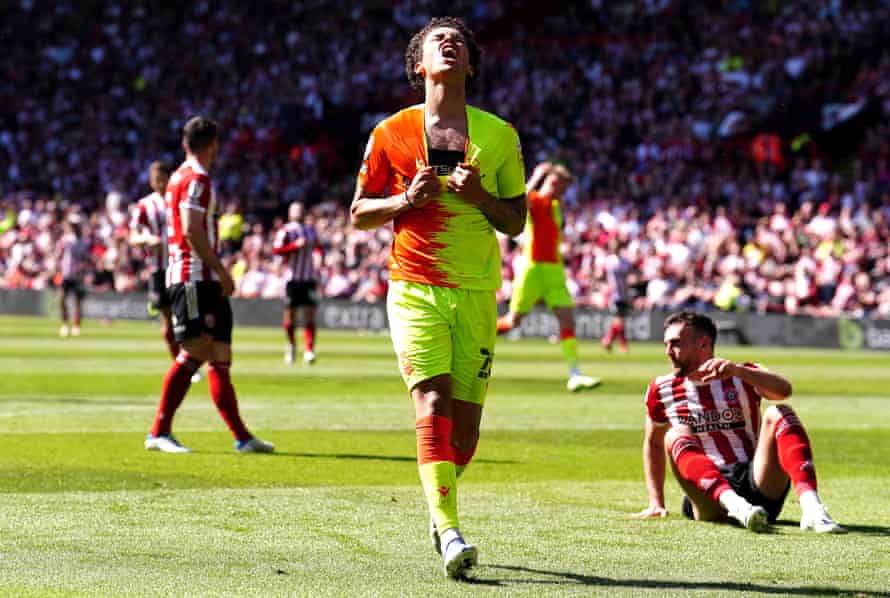 36 min: Ryan Yates – big miss – it came from Worrall's great ball, and that should have been 2-0 to Forest. That's the nerves. Forest keep making chances on the break but they will know they have to score one soon.
35 min: Norwood takes the resultant free-kick and blams it into the wall, and Johnson breaks away, scuttles on to a Colback pass. Foderingham saves at the angle, for a Forest corner.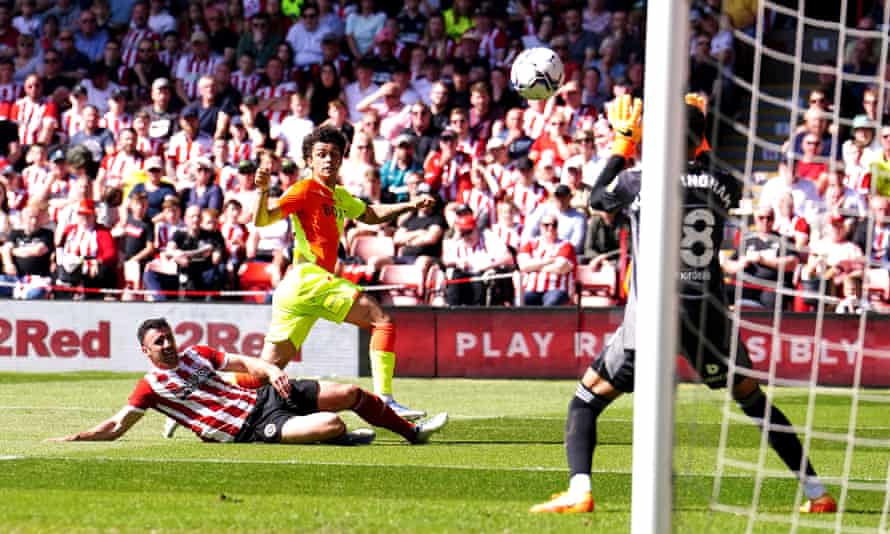 33 min: Joe Worrall is booked now, the captain on a knife edge after smashing down Ndiaye.
31 min: James Garner pulls out of a tackle that would have nobbled Enda Stevens, so all's well that ends well, though there's a tinderbox waiting to be lit.
29 min: John Fleck is booked, for clattering Zinckernagel, and in the Premier League with VAR, that might well have been a red. Fleck did, admittedly, lose his footing.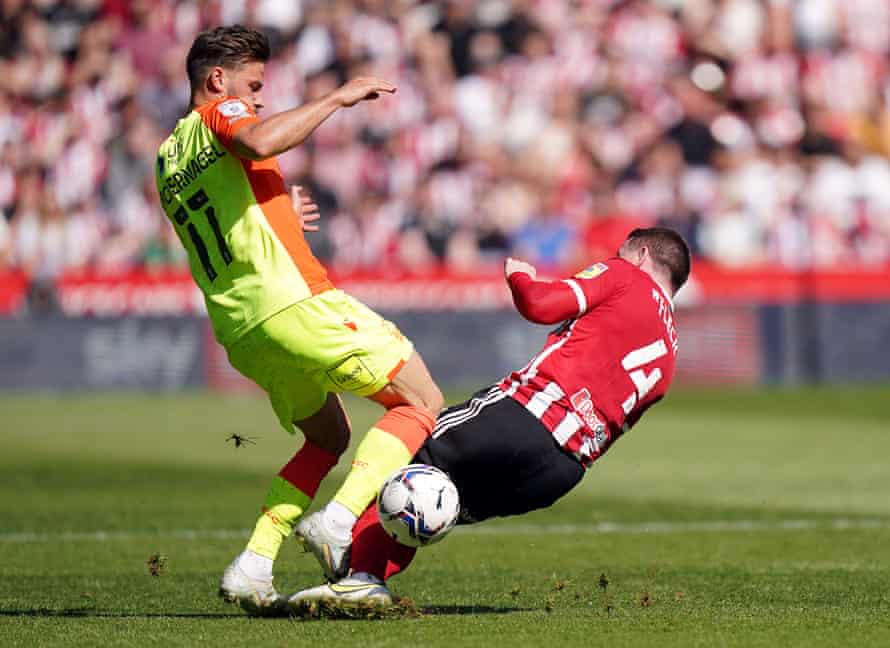 28 min: Long throw incoming, as Robinson launches one to the back post. Egan the target, but Colback gets it clear.
26 min: A sense of calm descending? Probably not for long. Sheffield United are taking their time over set pieces. A long ball up to Gibbs-White finds the forward in space but his cross goes into the arms of Samba.
24 min: A small break in play as Enda Stevens takes a knock but he's soon enough back up and demanding the ball.
22 min: Fleck has to step back and clear the danger as Blades push on and on. At the other end, Forest carve another chance – many are going begging – and Steve Cooper's mouth is open, aghast. Zinckernagel, from memory, is the player who coughed up a big chance in the FA Cup against Liverpool. He's clearly good at getting in positions, less good at taking them.
20 min: Joe Pearson gets in touch: " Those Forest kits are something! Woof!" Yes, very acieed house.
19 min: Forest go back on the attack. Breathless stuff. Foderingham has to come to claim a Zinckernagel shot, then Blades go back up the other end. What a game already. Another goal goes in, and madness may ensue.
18 min: Off the line – John Egan climbs up from a corner and Surridge is back there to clear. This game had already taken off.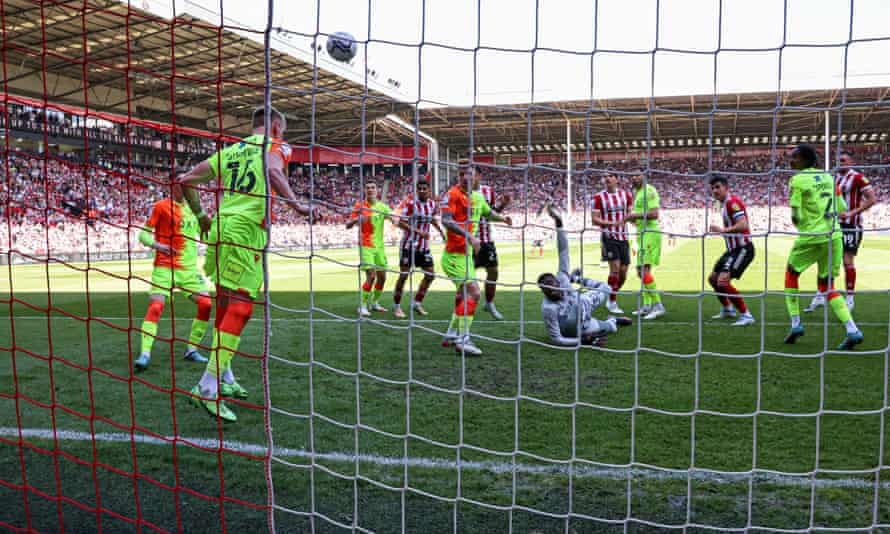 17 min: Basham picks out Berger, escaping beyond the Forest defence but the danger is cleared. The Norwegian wasn't quite sure what to do once he got there.
15 min: Blades force a corner. Forest have looked a tad ragged since the goal. That must be the tension.
13 min: Good reaction from the Blades crowd to that early setback, though they have been dealt a cruel blow.
11 min: Those slips that cost so much money we mentioned in the preambles – well, we just saw one from Ben Osborn, who lost his footing, and that set up a queue of chances for Forest. Nothing Foderingham in the Blades goal could do once he made the first save.
Goal! Sheffield United 0-1 Nottingham Forest (Colback, 10)
Forest open up Blades, as there's a slip in the box to let in Zinckernagel, who somehow misses the chance. No matter, up steps Colback on the rebound. Advantage to the Tricky Trees.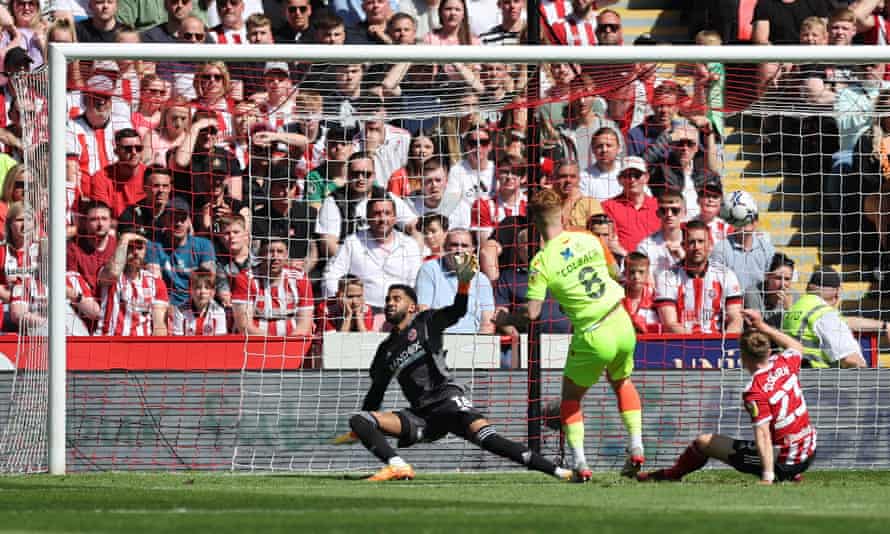 9 min: Forest give away a free-kick, and Ollie Norwood – as ever – will take it for Blades. There's a claim that Berger was bundled over in the box, but no dice. Not sure why: Garner was all over the Norwegian. No VAR – lucky for Forest. That was an act of manhandling.
8 min: Forest keep looking for the out-ball to Johnson while Blades are trying to hit Morgan Gibbs-White, who is up against three huge defenders. Zinckernagel makes a mistake and Forest only just get the ball clear.
7 min: Blades back on the offensive but Sander Berger's ball fails to send Ben Osborn away.
5 min: Ooof. Great defending by Blades' Basham as Brennan Johnson escapes down the flank, and his cross is scrambled clear after a fine ball by Worrall. Sam Surridge was lurking and had the interception been missed he was set fair to score.
4 min: Blades the brighter, with Samba claiming the ball after an attack down the left flank of the Forest defence.
3 min: It's very bright sunshine at Bramall Lane, and the opening to the game is a little tepid. It's loud off the field at a stadium the noise rattles around. An early corner to Blades is cleared by Spence. John Egan's header was blocked.
1 min: And away we go….Blades bid to return after a year away from the Premier League, and for Nottingham Forest it's as long as 1999.
There's something about these playoff games, where every move has a pricetag attached to it, and the TV commentators rattle with portents of what it all might mean. It's an existential crisis played out on a football pitch. This means more? In this case it very probably does.
At a sunny Bramall Lane, both Paul Heckingbottom and Steve Cooper, the two managers, have been talking.
SC: [On Keinan Davis]: "With him being on the bench it means he can contribute. If we need the boys from the bench we know we have options. We want to win, I go into every challenge waning to win. We know it's a bit different. It's a different context, and of course we want to win. "
PH: "We've shown great character to come through. This week's been very similar to last with no midweek games, and it's allowed us to prepare."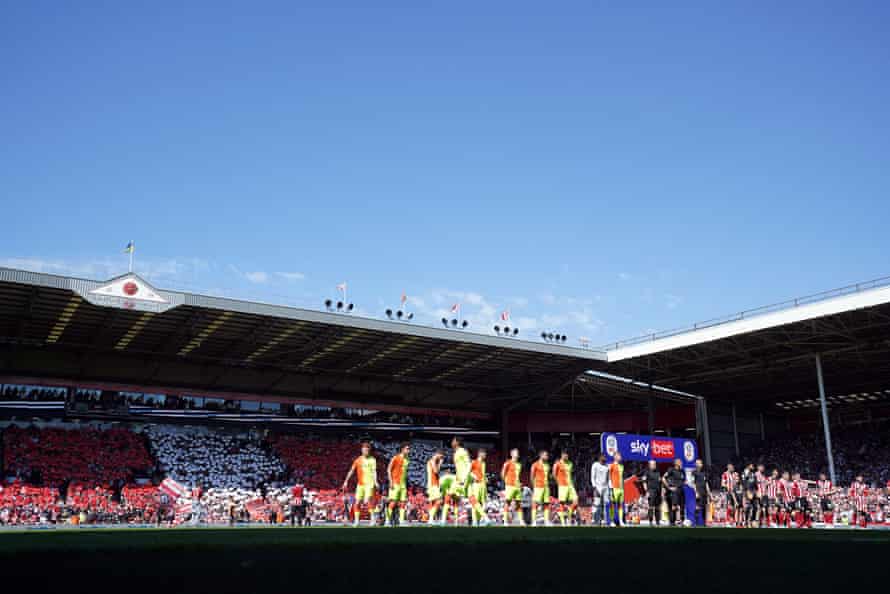 Our resident Blade remembers this fixture very fondly indeed.
Barry Glendenning previewed this meeting of the playoff hopeless.
Sheffield United are unchanged from the team that walloped Fulham 4-0 on the final day of the regular season, while Steve Cooper has almost completely shuffled his pack from the match with Hull. Steve Cook returns to the team, as does Jack Colback comes at left wing-back, with Djed Spence on the right. Ryan Yates will partner James Garner in the centre of midfield. Keinan Davis is named on the bench, the hope is he will be it for Wembley.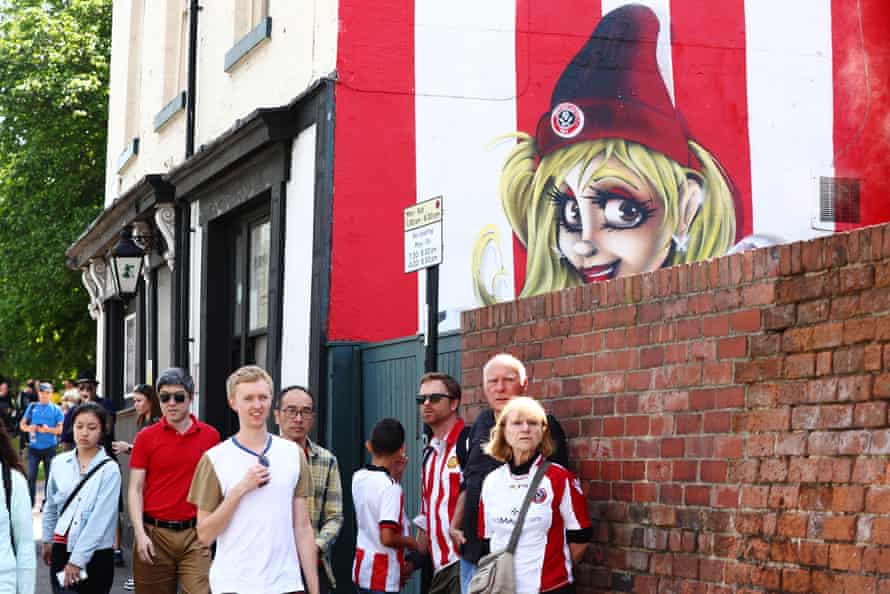 Sheffield United: Foderingham, Basham, Egan, Robinson, Osborn, Norwood, Fleck, Stevens, Berge, Gibbs-White, Ndiaye. Subs: A Davies, B Davies, Baldock, Hourihane, Osula, Norrington-Davies, Jebbison.
Nottingham Forest: Samba, Worrall, Cook, McKenna, Spence, Yates, Garner, Colback, Zinckernagel, Surridge, Johnson. Subs: Horvath, Figeueiredo, Davis, Laryea, Mighten, Cafu, Lolley.