At least 13 killed in Russian missile strike on shopping mall, Ukraine says
June 28, 2022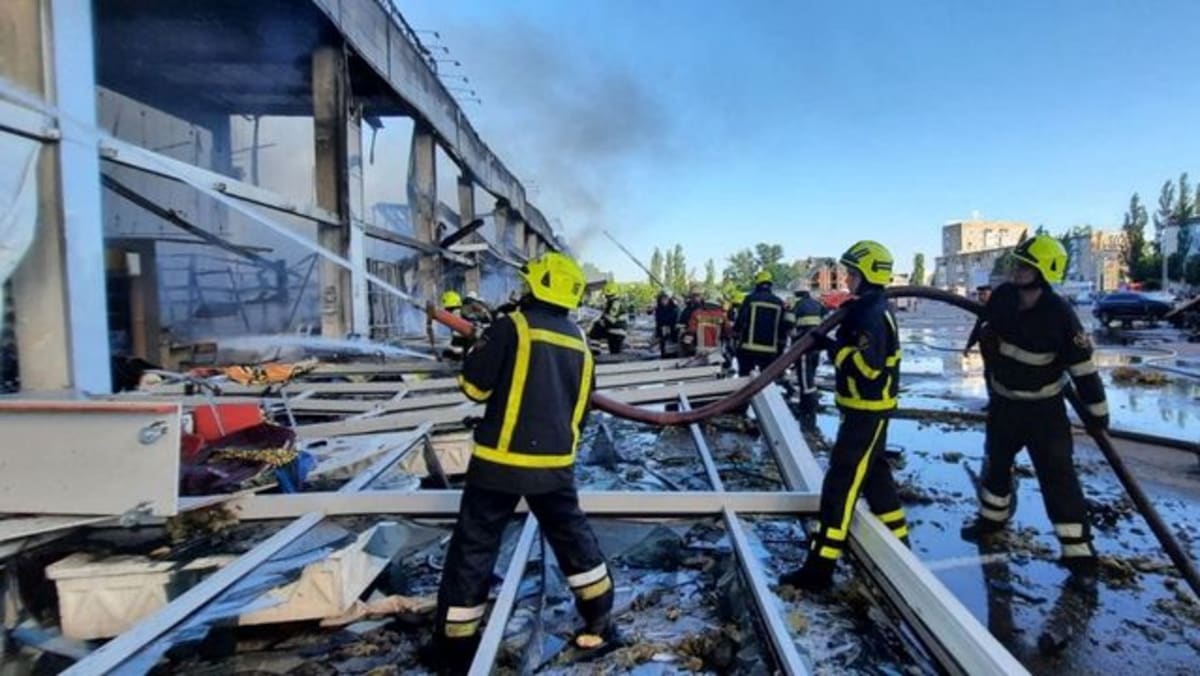 At one point, paramedics rushed into the building after rescuers called out "200" meaning they had found one or more bodies in the building. Reporters were later pushed away from the scene as air raid sirens wailed again.
UKRAINE WANTS MORE WEAPONS
As night began to fall, rescuers brought lights and generators to continue the search. Worried family members, some close to tears and with hands over their mouths, lined up at a hotel across the street from the mall where rescue workers had set up a base.
Kiril Zhebolovsky, 24, was looking for his friend, Ruslan, 22, who worked at an electronics store and hadn't been heard from since the blast. "We sent him messages, called, but nothing," he said. He left his name and phone number with the rescue workers in case his friend is found.
A mall worker who gave his name as Roman, 28, told Reuters that the mall's management had only three days ago allowed shops to remain open during air raid sirens.
Kremenchuk, an industrial city of 217,000 before Russia's Feb 24 invasion of Ukraine, lies on the Dnipro River in the region of Poltava and is the site of Ukraine's biggest oil refinery.
Ukraine's air force command said the mall was hit by two long-range X-22 missiles fired from Tu-22M3 bombers that flew from Shaykovka airfield in Russia's Kaluga region.
Russia's deputy ambassador to the United Nations, Dmitry Polyanskiy, wrote on Twitter, without citing evidence, that the attack was a "Ukrainian provocation".
"Exactly what Kiev regime needs to keep focus of attention on Ukraine before (the) NATO Summit," he said, referring to the alliance's Madrid gathering due to begin on Tuesday.
NATO Secretary-General Jens Stoltenberg said on Monday that the upcoming summit will agree a new assistance package for Ukraine in areas "like secure communications, anti-drone systems, and fuel."
"We need more weapons to protect our people, we need missile defences," Andriy Yermak, head of the president's office, wrote on Twitter after the attack.