G7 pledges unwavering support for Ukraine as missiles strike shopping centre
June 28, 2022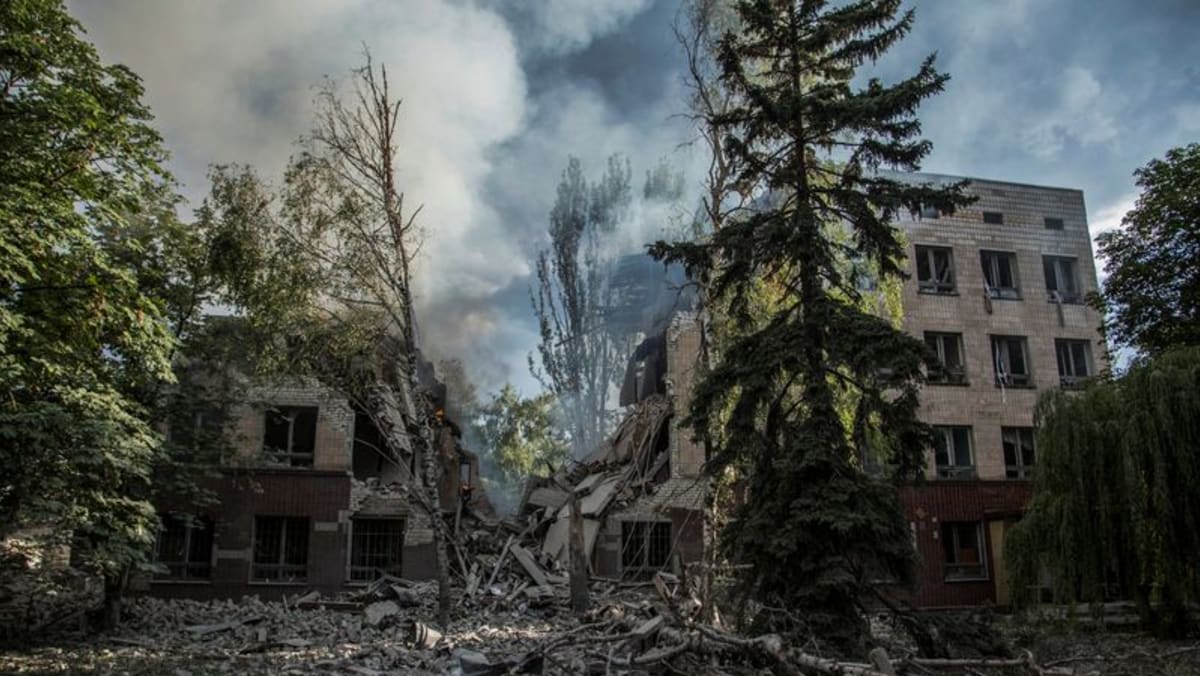 KREMENCHUK: Russian missiles struck a crowded shopping mall in central Ukraine on Monday (Jun 27) , President Volodymyr Zelenskiy said, as Moscow fought for control of a key eastern city and Western leaders promised to support Kyiv in the war "as long as it takes".
More than 1,000 people were inside when two Russian missiles slammed into the mall in the city of Kremenchuk, southeast of Kyiv, Zelenskyy wrote on Telegram. At least 13 people were killed and 50 injured, Ukrainian officials said. Rescuers trawled through mangled metal and debris for any survivors.
"This is not an accidental hit, this is a calculated Russian strike exactly onto this shopping centre," Ukrainian President Volodymyr Zelenskyy said in an evening video address. He said the death count could rise.
Russia has not commented on the strike, which was condemned by the United Nations and Ukraine's Western allies. But its deputy ambassador to the United Nations, Dmitry Polyanskiy, accused Ukraine of using the incident to gain sympathy ahead of a Jun 28-30 summit of the NATO military alliance.
"One should wait for what our Ministry of Defence will say, but there are too many striking discrepancies already," Polyanskiy wrote on Twitter.
As night fell in Kremenchuk, firefighters and soldiers brought lights and generators to continue the search. Family members, some close to tears and with hands over their mouths, lined up at a hotel across the street where rescue workers had set up a base.
Kiril Zhebolovsky, 24, was looking for his friend, Ruslan, 22, who worked at the Comfy electronics store and had not been heard from since the blast.
"We sent him messages, called, but nothing," he said. He left his name and phone number with the rescue workers in case his friend is found.
UN spokesman Stephane Dujarric said the attack was "deplorable". Leaders of the Group of Seven major democracies, gathered for their annual summit in Germany, condemned what they called an "abominable" attack.
"We stand united with Ukraine in mourning the innocent victims of this brutal attack," they wrote in a joint statement tweeted by the German government spokesperson. "Russian President Putin and those responsible will be held to account."
Elsewhere on the battlefield, Ukraine endured another difficult day following the loss of the now-ruined city of Sievierodonetsk after weeks of bombardment and street fighting.
Russian artillery was pounding Lysychansk, its twin across the Siverskyi Donets River. Lysychansk is the last big city still held by Ukraine in the eastern Luhansk province, a main target for the Kremlin after Russian troops failed to take the capital Kyiv early in the war.