Sunak claims Tories 'united' on tackling crime as he confirms he doesn't back death penalty, unlike party's deputy chair
Rishi Sunak has recorded a TV interview this morning, and he has had to explain that, unlike his party's new deputy chairman, he is not in favour of the death penalty. The full clip has not been shown yet, but PA Media has the quotes.
As he confirmed that he disagreed with Lee Anderson on the death penalty, he also claimed his party was "united" in wanting to tackle crime. Asked if he agreed with Anderson, he replied:
That's not my view, that's not the government's view.

But we are united in the Conservative party in wanting to be absolutely relentless in bearing down on crime and making sure people are safe and feel safe.
Asked why he did not support the death penalty, he declined to make a moral argument against it. Instead, according to the PA report, he implied that it was not necessary. He said the government had "tightened up sentencing laws for the most violent criminals, they spend longer in prison". He went on:
It's why we're on our way to having 20,000 more police officers on our streets and we're giving those police officers more powers to tackle crime, whether it's stop and search or just this week in parliament we are giving police officers the power to tackle violent and extremist protesters.

That's because we want to make sure people are safe, they feel safe and that's what we're doing.
Key events
NHS England figures show 7.2m people on waiting lists, but slight improvement in A&E and ambulance waits
Carmen Aguilar García
There were 7.2 million people on the NHS waiting list in December, the second highest monthly figure since 2007, according to NHS England data out today. The figure represents an increase of 15,000 compared to November.
More than 1,200 people have waited longer than two years to start treatment, despite the government's ambition to eliminate waits that long by July 2022, while about 400,000 people have waited more than a year and more than 3 million longer than three months.
Bed occupancy remained high in January, as the problems discharging patients continues. Last month there were around 14,000 beds occupied with a patient medically fit to go home or to a care home.
But there has been relief from the pressure facing the NHS in some parts of the service, the data shows.
Two in five people waited in a trolley for more than four hours from arrival to the A&E department to admission in January, an improvement compared to December when half of patients were waiting that long.
Ambulance response times in England also improved compared to December, when services recorded their worst ever times across all major categories. However, response times are still far above target levels.
The average response time for people requiring an ambulance for a stroke, severe burns or chest pain was 32 minutes, almost twice the operating target.
Ambulance crews took almost eight and a half minutes – a minute and a half over the operating target – to reach patients in the higher priority "life-threatening" category. That category includes those suspected of having a heart attack.
Waiting times for patients with cancer continue to improve. Some 80% of the patients with an urgent GP referral for suspected cancer were seen by a specialist within two weeks in December, an improvement from the previous month, but still below the 93% operating target.
Firefighters postpone planned strike after being offered 7% pay rise
Strikes by firefighters have been postponed following an increased pay offer during lengthy talks with employers, the Fire Brigades Union has announced. It says it has been offered a 7% pay rise backdated to July 2022, and then 5% from July this year. There are more details here.
Commenting on the new offer, Matt Wrack, FBU general secretary, said:
This offer is testament to the power of collective action through the Fire Brigades Union. Last year we were offered an insulting 2%. The employers have now revised their position.

We have achieved this increase because of the massive vote in favour of strike action by firefighters and control staff across the country, which made clear the strength of feeling among firefighters about cuts to their wages.

Since 2010, the average firefighter has lost at least 12% of the value of their pay.

We will now ballot our members. Frontline firefighters and control room staff will make the decision on whether this pay offer is considered a real improvement. Our internal discussions will be honest and sober.

While the offer is improved from last year, it still amounts to a real-terms pay cut.
In an interview with the Today programme, asked why his union was making progress on pay when other public sector workers were not, Wrack said one factor was that firefighteres were not covered by a pay review body. That meant they negotiated directly with employers over pay, he said, and he suggested that created more scope for compromise.
Number of people killed with knife in England and Wales annually reaches highest level since 1946, ONS says
The number of people killed with a knife in England and Wales in 2021-22 was the highest on record for 76 years, the Office for National Statistics has said. It disclosed the finding in a report on homicide figures in England and Wales in the year ending March 2022. It said:
Approximately four in 10 homicides were committed using a knife or sharp instrument (282 homicides); a 19% increase compared with the previous year, and the highest annual total since the homicide index began in 1946 (similar to the previous high of 281 in the year ending March 2018).
Overall, the ONS says homicide deaths returned to pre-Covid levels in the most recent year, after a year when they fell steeply because of lockdown. It said:
Homicide returned to pre-coronavirus (Covid-19) pandemic levels, with 696 victims in the latest year; this is 130 more (a 23% increase) than the year ending March 2021 when government restrictions meant there was less social contact.
This chart shows the annual homicide rate since 1970.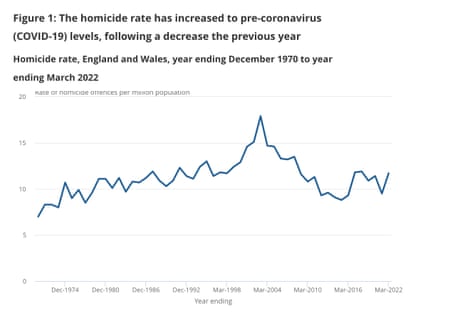 Act now on energy bills subsidy or see fuel poverty surge, says Martin Lewis
Jeremy Hunt must act now to reverse plans to raise energy bills from April, MoneySavingExpert's Martin Lewis has warned, saying the change cannot wait until the spring budget next month. My colleague Jessica Elgot has the story here.
As Tory deputy chairman, Lee Anderson will be expected to defend the party on broadcast media. But it is not going well. He gave an interview to BBC Radio Nottingham which, after a discussion about his views of food banks, ended up with Anderson dodging questions about the episode when he staged an encounter with a supporter for a camera crew during an election (the "random" voter was a personal friend) and then asking the station not to broadcast any of the interview at all.
You can listen to the whole thing here, on the BBC's website, where there is a long report too.
There are two urgent questions in the Commons today, on the visit of the the Xinjiang governor to the UK and on a Financial Times report saying the levelling up department has been "banned from making spending decisions on new capital projects without specific permission from the Treasury, after concerns were raised about the ministry's ability to deliver value for money".
Sunak should expand free childcare to tackle workforce shortages, says CBI
Rishi Sunak should funnel billions of pounds into free childcare to help get more parents into work to tackle acute workforce shortages, according to the CBI, Britain's leading business group. My colleague Richard Partington has the story here.
And here is my colleague Peter Walker's story about the Lee Anderson interview in the Spectator. As he points out, as well as backing the death penalty, Anderson also said that people crossing the Channel on small boats should be sent straight back by the navy.
This is what Anderson told the Spectator in the interview about the small boats. Describing a recent visit to Calais where he saw migrants hoping to come to the UK, he said:
They are seeing a country where the streets are paved with gold – where, once you land, they are not in that manky little fucking scruffy tent. They are going to be in a four-star hotel! And they know that Serco is buying up houses everywhere, to put them in for the next five years. Why wouldn't you come?

I'd send them straight back the same day. I'd put them on a Royal Navy frigate or whatever and sail it to Calais, have a standoff. And they'd just stop coming.
Tories stress new deputy chairman Lee Anderson not speaking for government when he calls for death penalty
Good morning. When Lee Anderson was appointed Conservative party deputy chairman on Tuesday, it was widely assumed that his stance as a rent-a-quote reactionary would soon create awkward headlines for the Tories and it has happened already. Anderson gave an interview to the Spectator before his appointment and it has been published this morning. In it, asked if he would support the return of the death penalty, he replied:
Yes. Nobody has ever committed a crime after being executed. You know that, don't you? 100% success rate.
The death penalty was abolished in the 1960s, in part because of concern that miscarriages of justice meant innocent people were sometimes killed by the state. Anderson told the Spectator that he could see the problem, and that he would only want the death penalty used where there was no doubt about guilt. He said:
Now I'd be very careful on that one (the return of the death penalty) because you'll get the certain groups saying: 'You can never prove it.'

Well, you can prove it if they have videoed it and are on camera – like the Lee Rigby killers.

I mean: they should have gone, same week. I don't want to pay for these people.
Of course, restoring the death penalty is not remotely Conservative party policy (and it would require the UK to leave the European convention on human rights, which is not Rishi Sunak's policy, but is a move favoured by some Tories, including Suella Braverman, the home secretary). CCHQ and the government have not endorsed Anderson's view. The Conservative party said that the interview took place before Anderson became deputy chair, and that his view on the death penalty wasn't the government's.
And Claire Coutinho, the children's minister who was doing a media round this morning, said that Anderson was "a very good thing for the party", even though she did not agree with him on this.
In his Spectator interview Anderson said that comments deemed outrageous at Westminster were often popular with voters. He said:
If I say something that is supposedly outrageous in that place [the Commons], I get back to Ashfield on a Thursday, people will come out the shops and say: "You say what I'm thinking."
As Tory deputy chair, Anderson is not a member of the government, and he is certainly not in charge of penal policy, and so in one sense his views don't matter. But that does not mean they are not important. Rishi Sunak did not appoint him despite his hardline and illiberal views on crime, welfare, immigration etc. He appointed him because of them. Anderson is supposed to show working class Ukip and Brexit party voters that their views are represented in the Tory party.
But if, as soon as Anderson does something likely to appeal to this constituency, government colleagues say they don't agree, then at some point the man in the Ashfield shopping centre might feel he's being strung along.
Here is the agenda for the day.
9.30am: Kemi Badenoch, the new business and trade secretary, takes questions in the Commons.
9.45am: Andrew Bailey, the governor of the Bank of England, gives evidence to the Commons Treasury committee.
Morning: Sunak is on a visit to a family hub in the south-west of England to promote the family hubs and start for life programme.
10.30am: The former MP Jared O'Mara is due to be sentenced after being convicted of expenses fraud.
11.30am: Downing Street holds a lobby briefing.
There is also a byelection today in West Lancashire, a safe Labour seat.
I'll try to monitor the comments below the line (BTL) but it is impossible to read them all. If you have a direct question, do include "Andrew" in it somewhere and I'm more likely to find it. I do try to answer questions, and if they are of general interest I will post the question and reply above the line (ATL), although I can't promise to do this for everyone.
If you want to attract my attention quickly, it is probably better to use Twitter. I'm on @AndrewSparrow.
Alternatively, you can email me at andrew.sparrow@theguardian.com