He knows the same will be true tomorrow but accepts "that is how sport goes". After just five Twenty20s (taking eight wickets, and borrowing his friend Marcus Rashford's head-pointing celebration), playing a 50-over match will be a significant milestone.
"It is a nice thing [to tick off]," he said. "I probably won't feel it until the eighth or ninth over, then standing in the field for the 21st over will feel very long. It is necessary. I have other things I want to achieve, especially in the summer, and I've got to do it."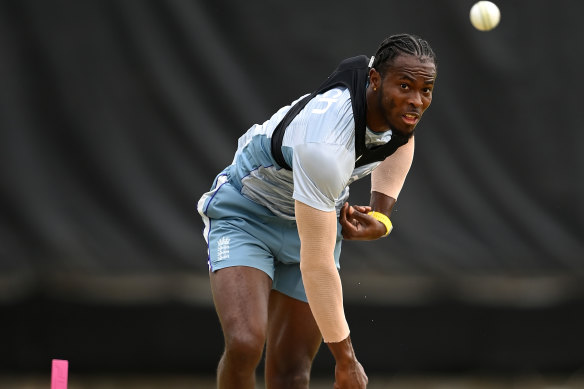 Those other things are the Ashes, from June, and October's World Cup.
England are carefully building up his workload, although when he will get to play first-class cricket before the Ashes is unclear, given he is going to the Indian Premier League. He has promised, though, that he will do whatever work is required to get there. At this stage, he rates his fitness only "at about 80 per cent", but still topped 145 km/h regularly in the SA20.
"I know whenever I'm fully fit, I don't think there's much that can stop me, it's just a matter of when that was going to be," he said.
"Overs are overs and you train and bowl until you feel good. Obviously, I might have to do some extra bowling during the week in India [at the IPL], but that is absolutely fine because I want to play in the Ashes, so I'm going to have to do all the hard yards to tick those boxes.
"It is an exciting prospect to think about playing with the guys again, especially with the brand of cricket they are playing [under Ben Stokes], which is very exciting.
"But I think I need to spend the next two, three, four months fine-tuning the body and making myself a bit more resilient. Let me sort that out first, then I can look forward to holding the red ball in my hand again.
"It is the start for me and I'm very excited. This is our first ODI of the year so I'm very glad to be playing from the start and when we do get to India, hopefully I'll be there, and everything will seem worth it."
Archer says he did not "waste a day" while injured; having six dogs certainly helps. Archer has had Sheba, a French Mastiff, since he was 16.
The more recent additions — Ace, Onyx, Ghost, Nova and Luna — are all American Bullies. It is little surprise that he reflects: "It's their house, I just live there."
Loading
Archer adds: "I went a bit crazy probably a month after I got back to Barbados. I got five dogs in the space of four weeks. To be honest, just the routine kept me going — shovelling lots of poo and feeding lots of dogs."
Telegraph, London