Key events
26 min Semedo is booked for fouling Garnacho, a decision that infuriates the player, the home fans and especially Julen Lopetegui.
24 min Podence tricks his way into the area and hits an early shot that is well blocked by Varane. Moments later, Wan-Bissaka makes an even better block to deny Moutinho, who looked set to score from 12 yards after a good ball from Costa.
For a team who have barely scored all season. Wolves look dangerous going forward. Moments later, Costa cuts inside Varane on the left side of the area but shoots too close to de Gea.
24 min "Ferg was never drying his own hair…" says Jeremy Boyce.
He wasn't even using a hairdryer.
23 min Antony's shot from just inside the area takes two deflections, forcing Jose Sa to change direction and pounce on the ball. It was a comfortable save in the end.
22 min United have looked good in possession, albeit without much penetration. Even so, there are obvious signs of progress from the first couple of months under Erik ten Hag.
21 min "Yep, shades of milord Ferg already, this can only be good for the team/club/business," says Jeremy Boyce of Erik ten Hag's decision to leave out Marcus Rashford. "Only a dozen or so years wasted then… Is ten Hag a tea-drinker, anyone know?"
I do know he's a fellow member of the bald community, so I'm not sure where the hairdryer fits in.
19 min I'd like to see a replay but my first impression was that Antony bottled that 50/50 with Jose Sa. It all happened very fast, though, so I might be wrong.
16 min: Fine save from Jose Sa! A dreadful backpass from Semedo puts Garnacho through on goal. He slides a low first-time shot that is superbly stopped to his left by the outrushing Sa, who then scampers to the edge of the area to beat Antony to the loose ball.
That was a seriously good save actually, full stretch to his left as he charged out towards Garnacho.
15 min "Antony is the 13th most expensive player in the history of football," says Andrew Hurley. "And there's no English premium either. It's very hard to understand, he's an averagely good player who will score a spectacular goal three times a season … I can't get my head around it."
He's been underwhelming and a bit one-dimensional so far, but I'd be inclined to trust, or at least respect, Ten Hag's (and Tite's) judgement. After the precedent of Robert Pires (first season: so-so, second season: player of the year) I'm loath to judge creative players until the end of the season season. Maybe he's a Pires, maybe he's a Pepe. My money's probably on the latter at this stage but it's early to be sure.
14 min Here's more on Marcus Rashford's omission today.
13 min The Wolves' full-backs have been pretty lively going forward, more so than United's so far.
11 min United break dangerously, with Casemiro and Martial combining to find Garnacho in space on the left. He surges into the area but is calmly tackled, I think by Semedo.
10 min Bueno wins Wolves' first corner, which he'll take himself. He curls it towards the penalty spot and Varane heads clear.
8 min United are starting to dominate possession, with Casemiro and Eriksen snapping the ball about with confidence. They are jolly good footballers.
7 min The resulting corner is headed away to the edge of the D, where Garnacho swishes a volley into orbit. He's a confident boy.
6 min: Chance for United! Eriksen's outswinging corner from the right is headed towards goal by Casemiro at the near post. The ball hits the unsighted Nunes and loops onto the roof of the net.
5 min Martial goes down in the area after a challenge from Neves. Nothing much in it.
4 min "Happy new year," says Jeff Sachs, before getting straight down to business. "Nunez missed sooo many yesterday, incredible."
Not now Jeff! (And happy new year to you all.)
3 min Semedo storms forward from right-back and is pulled back by Garnacho. Wolves try a training-ground free-kick and make a Horlicks of it.
2 min "Good morning Rob from rainy California, a phrase as rare as Everton victories these days," says Mary Waltz. "Well, if any United player decides to ignore ten Hag's instructions, shipping out CR7 and benching Rashford should inform them who the boss is."
He's very Pep in that regard.
1 min Peep peep! United kick off from left to right.
This still looks awesome 52 years later. Imagine how mind-blowing it must have been to see it in real time.
The players gather round the centre circle to pay tribute to Pele, football's answer to the Beatles. Antony, one of a number of Brazilians in the United squad, pulls up his shirt to reveal a message underneath.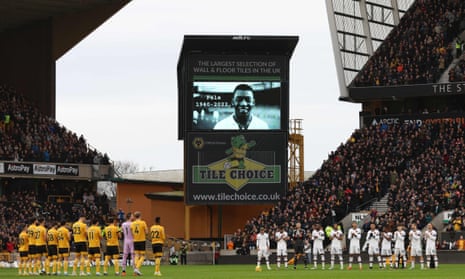 The players are out and Molineux is rocking. Of course it is.
"I was just thinking yesterday about the seeming media love-in with regard to Marcus Rashford," says Carl Whinder. "While I admire his work off the pitch and wish him no ill will on it, as a fan of an opposing team I can't really get all warm and fuzzy over his current decent form. I'm also not sure other non-Man Utd fans are that jazzed up about it either, although I may be wrong."
It's quite complicated I think, because unlike with most footballers it involves both on- and off-field matters. Anyway, each their own I guess. Plenty of United fans, never mind neutrals, still don't really like him.
Half-term reports
Rashford dropped for disciplinary reasons
Oh, hello. On BT Sport, Erik ten Hag says that Marcus Rashford is on the bench because of an "internal disciplinary" matter. There goes the feelgood story of the season!
Wolves started the year by hammering United 1-0 at Old Trafford. But that was one of only 11 league wins in 2022, including a run of just three in the last 24 games, and they have been slowly sinking down the table. They start this game in 18th place, but it still doesn't quite compute that a team who were part of the mid-table furniture for four seasons might go down.
The signings of Julen Lopetegui and Matheus Cunha reinforce that feeling, and it's so tight at the bottom that Wolves are only six points off 11th place. Even so, there is work to do.
United, in the parlance of our time, are in a pretty good place. Erik ten Hag has recovered from a diabolical start with quiet authority – he could barely have handled the Cristiano Ronaldo problem any better – and, even without Ronaldo, Paul Pogba, Jadon Sancho, Edinson Cavani and Mason Greenwood, the team looks much more balanced than it did at the start of the year.
While less phonetically catchy than McFred, Caseriksen represents an almighty upgrade in midfield, and Marcus Rashford's resurgence is one of the happier stories of the season. United are still a long way from challenging for the two big prizes*, but a win today would at least move them into the top four. They haven't been at such altitude since March.
* And yet, a little paradoxically, had they won those first two games of the season against Brighton and Brentford, they would be right in the title race.
Team news: Rashford on the bench
Both managers make one change from their post-Christmas victories. Matheus Nunes replaces Joe Hodge in the Wolves midfield, and Alejandro Garnacho comes in for Marcus Rashford in the United attack. Rashford is among the subs so is presumably being rested; the 17-year-old midfielder Kobbie Mainoo is also on the United bench.
Wolves (4-3-3) Sa; Semedo, Collins, Kilman, Bueno; Nunes, Neves, Moutinho; Hwang, Costa, Podence.
Substitutes: Sarkic, Ait-Nouri, Jonny, Toti, B Traore, Hodge, Jimenez, Guedes, A Traore.
Man Utd (4-1-2-3) de Gea; Wan-Bissaka, Varane, Shaw, Malacia; Casemiro; Fernandes, Eriksen; Antony, Martial, Garnacho.
Substitutes: Heaton, Lindelof, Maguire, Williams, Fred, Van de Beek, Mainoo, Rashford, Elanga.
Referee Robert Jones.
Hello and welcome to live coverage of Wolves v Man Utd at Molineux. It's a game that needs no introduction, and not only because I'm running late. Okay, maybe a bit because I'm running late. Yes okay, entirely.
Shall we just get on with the team news?